Social isolation and loneliness have always been a concern for seniors and their caregivers, but the COVID-19 pandemic made these problems worse. State and local governments issued stay-at-home orders and guidelines for social distancing, causing hospitals, nursing homes and assisted living facilities to ban visitors and restrict social activities. As a result, millions of seniors went without visits from loved ones. Even though they couldn't visit with friends and family members, hospital patients and nursing home residents at least had the opportunity to interact with nurses and other staff members. Seniors aging in place didn't have that option. Many older adults live alone, are no longer in the workforce and have family members who live several cities or states away, leaving them completely isolated.
Although the pandemic created new challenges, it also introduced new resources to help seniors and their caregivers stay connected. Zoom, FaceTime, Skype and other online tools make it easier for caregivers to check on their older loved ones, coordinate personal care and home health services, and plan virtual events, reducing the risk of social isolation for seniors who live alone.
This guide provides an overview of how caregivers can ensure the safety and well-being of their loved ones even when they can't visit frequently. You'll find actionable tips on using technology to connect with your aging parents, sharing caregiving duties with other family members and making the most out of your limited visits with aging relatives. The guide also includes a directory of state resources to find services that can help your loved one maintain their independence.

Long-Distance Caregiving: An Overview
The National Institute on Aging defines a long-distance caregiver as someone who lives an hour or more away from a person who needs care. Many people take on this role for the older adults in their lives, such as children, siblings, aunts, uncles, cousins, neighbors and friends. Although caregiving is a rewarding endeavor, it also comes with some challenges, especially when it takes place from a long distance.
Benefits of Long-Distance Caregiving
One of the main benefits of long-distance caregiving is that it can help older adults stay in their homes for as long as possible, allowing them to maintain their independence and reduce the amount of money they spend on assisted living or nursing home care. Another benefit is that a long-distance caregiver can provide ongoing emotional and financial support. Online tools make it possible for caregivers and their loved ones to communicate daily, helping older adults avoid isolation and allowing caregivers to identify minor issues before they turn into major problems.
Long-distance caregiving also has several benefits for the caregiver. Even when they encounter challenges, many caregivers derive a sense of satisfaction from helping someone who cared for them in the past. Adult children, for example, may believe that they're paying back their parents for all the love and support they've received over the years. Long-distance caregivers can also take pride in knowing that they're helping a loved one get the best possible care. As a result, caregiving gives many people a sense of purpose.
Challenges of Long-Distance Caregiving
Long-distance caregiving has many benefits for caregivers and their loved ones, but distance introduces some additional challenges. A caregiver who lives hundreds or even thousands of miles away may have difficulty finding and vetting local resources to help address their loved one's physical, emotional or financial needs. Long-distance caregivers may also feel guilty about not being able to visit their loved ones as often as they would like. This makes it more difficult to address problems. If a caregiver isn't able to visit for several months, for example, they may not realize that their loved one isn't eating enough or needs help with household chores.
Caregivers also incur significant costs when they're providing care from a distance. Some caregivers help their loved ones with everyday expenses, including rent, groceries and utilities, leaving them with less money to spend on their own needs. Others make multiple visits per year, which may require the purchase of plane tickets or several tanks of gas to get back and forth. A caregiver may even lose some of their income if they have to take unpaid time off work to handle an emergency for a loved one.
If you don't have anyone to help you with long-distance caregiving, it can also be difficult to know exactly what's happening with your loved one at any given time. Unless you set up a video feed in their home, you may not know if they're falling frequently, drinking enough water, eating nutritious meals or receiving all the services you've coordinated from afar.
The Role of a Long-Distance Caregiver
Although long-distance caregiving can be challenging, there are plenty of things you can do from a distance to help an aging loved one stay healthy and happy. If you have several family members willing to provide care, you can also split up the caregiving duties, making your life a little less stressful.
What You Can Do From a Distance
Thanks to advances in technology, there are dozens of things you can do from a distance. Some of these activities involve paperwork and care coordination, while others are more focused on providing emotional support.
Here are just a few ideas for helping your older loved one from almost anywhere in the world:
Coordinate services to help them stay healthy, such as personal care, medication reminders and home-delivered meals.
Volunteer to review documents from your loved one's insurance company, such as Medicare statements or letters regarding service approval or denial. A careful review of these documents can help you spot fraud or make sure they get all the benefits they're entitled to receive.
Be responsible for paying your loved one's monthly bills, as well as any bills due quarterly or annually. This includes utility bills, property taxes, insurance premiums, rent or mortgage payments, streaming memberships and debt payments.
Help your loved one balance their checkbook or investigate unusual charges on their debit or credit cards.
Hire someone to conduct a home safety audit for your loved one. This type of audit can uncover problems with wiring, HVAC systems, water heaters, kitchen appliances and residential plumbing, giving you an opportunity to eliminate fire hazards and prevent injuries associated with unsafe living conditions.
Create an emergency binder for your loved one. This should have a list of medications, a detailed overview of their medical history and any other information first responders or hospital employees would need to make good care decisions.
Educate yourself on your loved one's health issues so that you can be an effective advocate when corresponding with health care professionals or speaking with them on the telephone.
Give family members and friends regular updates on your loved one's living situation.
Provide video-based respite care if another caregiver needs time off to rest or take care of their personal needs.
Schedule regular video chats with your loved one to prevent loneliness and isolation.
Roles and Responsibilities
Long-distance caregivers wear many hats, especially if they're caring for older adults with chronic health conditions. As a caregiver, you may take on the following roles:
Advocate: You may need to advocate for your loved one's well-being when communicating with insurance companies, medical professionals and representatives of community organizations that provide services to seniors.
Financial advisor: Many seniors live on fixed incomes, making it difficult to pay for food, medical care and other necessities. Your loved one may also have difficulty making mortgage payments or paying off other debts. You may need to serve as a financial adviser by reviewing their finances regularly and giving advice on how to make limited funds last as long as possible.
Legal representative: If you have power of attorney for your loved one, you may have to make medical or financial decisions on their behalf.
Researcher: When you live far away from your loved one, you may need to hire professional caregivers or arrange for nonprofit organizations to deliver meals or provide medical transportation. If so, you'll need to research the available options and determine which ones offer the best value.
Employer: If your loved one needs paid assistance, you may have to take on the role of an employer, conducting telephone or video interviews, ordering background checks and making sure each person gets paid the correct amount on time.
Respite care provider: If you share caregiving duties with other family members, you may need to step in and provide respite care at some point. Respite care gives the primary caregiver a break to rest or take care of personal obligations, such as medical appointments, banking and child care.
Share Responsibilities With Family Members
The caregiving team may include your loved one's adult children, siblings, grandchildren, friends, fellow church goers and neighbors. If several family members are involved in caregiving, it's important to divvy up the duties carefully. You don't want one person to become overwhelmed or resentful because they're doing the vast majority of the work.
Assigning Duties
Before you assign duties, you need to come up with a list of responsibilities. It's best to do this during a scheduled family meeting, as waiting until an emergency occurs can prevent your loved one from getting the best possible care. Let family members know what you want to discuss so that everyone comes prepared to make decisions.
There's no one-size-fits-all list of duties for family caregivers, as a lot will depend on your loved one's medical and social needs. A person with limited mobility or signs of cognitive decline will need more help than an individual who's in better health, for example. You may want to have someone handle these duties:
Paying bills
Conducting in-person welfare checks
Finding paid care providers to fill in the gaps when family members can't be there to help
Attending medical appointments with your loved one
Coordinating services provided by nonprofit organizations
Organizing legal and medical documents
Disputing inaccurate bank charges or medical bills
Advocating for your loved one's needs with doctors, nurses, social workers and other professionals
Making sure their prescriptions are refilled on time each month
Ordering heating fuel, groceries and other items to be delivered to your loved one's home
Once you have a list of duties in mind, appoint a primary caregiver who can respond quickly in the event of an emergency. The primary caregiver should live as close to your loved one as possible to make it easier to provide assistance. If they're admitted to the hospital, for example, the primary caregiver should be someone who can visit regularly, speak with health care providers and arrange for post-discharge care.
Consider Your Strengths and Weaknesses
During your family meeting, assign duties based on each person's strengths, weaknesses, knowledge and skills. If you're good at negotiating or managing a budget, then you might be the best person to dispute fraudulent charges, negotiate discounts on services or pay your loved one's bills.
A person who's shy and has trouble opening up to new people may not be the right person to serve as an advocate during medical appointments or hospital admissions. If someone in your family works in the medical profession, consider asking them to take on this role, as they can use their knowledge of health terminology and medical billing to communicate effectively with doctors, nurses, billing clerks and other staff members.
Set Limits
When you're determining who will handle each duty, don't be afraid to set limits. It's better to turn down a responsibility than to take it on and be unable to fulfill your duties later. If you live across the country and don't have a lot of money for travel, for example, you may want to focus on things you can do from your home. This may include paying bills online, ordering medical supplies to be delivered to your loved one's home or researching paid caregiving options.
Downloadable Caregiving "Roster"
Use the sheet below to keep track of who is available to help out with your caregiving duties.
Staying Connected With Aging Parents
The technology available today makes it much easier to stay connected with aging parents. The COVID-19 pandemic also prompted many companies to release new tools to help children, siblings and other family members keep in touch with senior loved ones and make sure they're getting the care they need. These are some of the most helpful tools for long-distance caregivers.
Medical Alert Systems
When you hear the term medical alert system, you may think of a simple pendant or bracelet that has a button to connect the user with a monitoring center or designated family member. Although these options still exist, today's medical alert systems are much more sophisticated than the early models. Depending on the model you choose, a medical alert system may have some or all of the following features:
Immediate access to professional assistance: If the alert system has a help button, your loved one can connect with a response center in just a few seconds.
GPS monitoring: For older adults with Alzheimer's disease and other types of dementia, GPS monitoring is helpful in instances of wandering. A senior experiencing cognitive decline may have trouble recognizing familiar people and places, causing them to get lost if they decide to walk to a neighbor's house or head to the grocery store on foot. GPS monitoring makes it possible to identify their location and send assistance.
Fall detection: In the United States, approximately 36 million falls occur among older adults each year. Falls can cause serious injuries, including concussions, hip fractures and sprains. Some medical alert systems detect falls automatically and summon emergency help within a matter of seconds.
Cellular connectivity: If your loved one attends church services, visits with neighbors or has frequent medical appointments, you may want to get a medical alert system that has cellular connectivity. As long as your loved one has cell service, they'll be able to use the system even if they're not at home.
Security measures: The most advanced systems detect smoke, high levels of carbon monoxide and other potential hazards, protecting your loved one from serious harm.
Health monitoring: Some systems include wearable devices capable of tracking a senior's heart rate and other health-related metrics. These features are especially helpful for older adults with heart problems, diabetes and other chronic illnesses. Advanced systems may even be able to send data directly to a health care provider for review.
One of the main benefits of a medical alert system is that it can give you extra peace of mind when you can't be near your loved one. A medical alert system can also make it much easier to get in touch with them, allowing you to keep the lines of communication open even if you live thousands of miles away.
Additional Communication and Monitoring Options
Medical alert systems are just one of the options available to help you stay connected with an aging parent and make sure they're getting the care they need. These are a few of the most helpful tools available.
| TOOL | FEATURES/FUNCTIONS | EXAMPLES | SPECIAL CONSIDERATIONS |
| --- | --- | --- | --- |
| Video calling devices | Direct video connection with loved ones | – Facebook Portal– Amazon Echo Show– GrandPad tablet for seniors | – You may need to sign up for messaging software before using one of these devices.– The screen needs to be bright enough for your loved one to see it in various lighting conditions.– Some seniors may struggle to see small screens. |
| Mobile apps | – Communication apps– Medication reminders– Health trackers– Nutrition management | – Facebook Mobile– Pill Monitor– MedWatcher– PainScale– Fooducate | – Communication apps send data directly to health care providers.– Medication reminder apps can inform you if your loved one is following doctor's orders.– Nutrition management apps can help you identify a loved one's dietary problems.– Health tracker apps can make it easier to monitor symptoms and determine if prescribed medications are working as intended. |
| Communications software | Communication via audio, video and/or text | – Skype– Zoom– Microsoft Teams | – Your loved one will need a strong internet connection to support some communication services.– If your loved one is hard of hearing, consider purchasing earbuds or over-the-ear headphones for audio and video communications. |
How To Maximize Each Visit With Your Loved One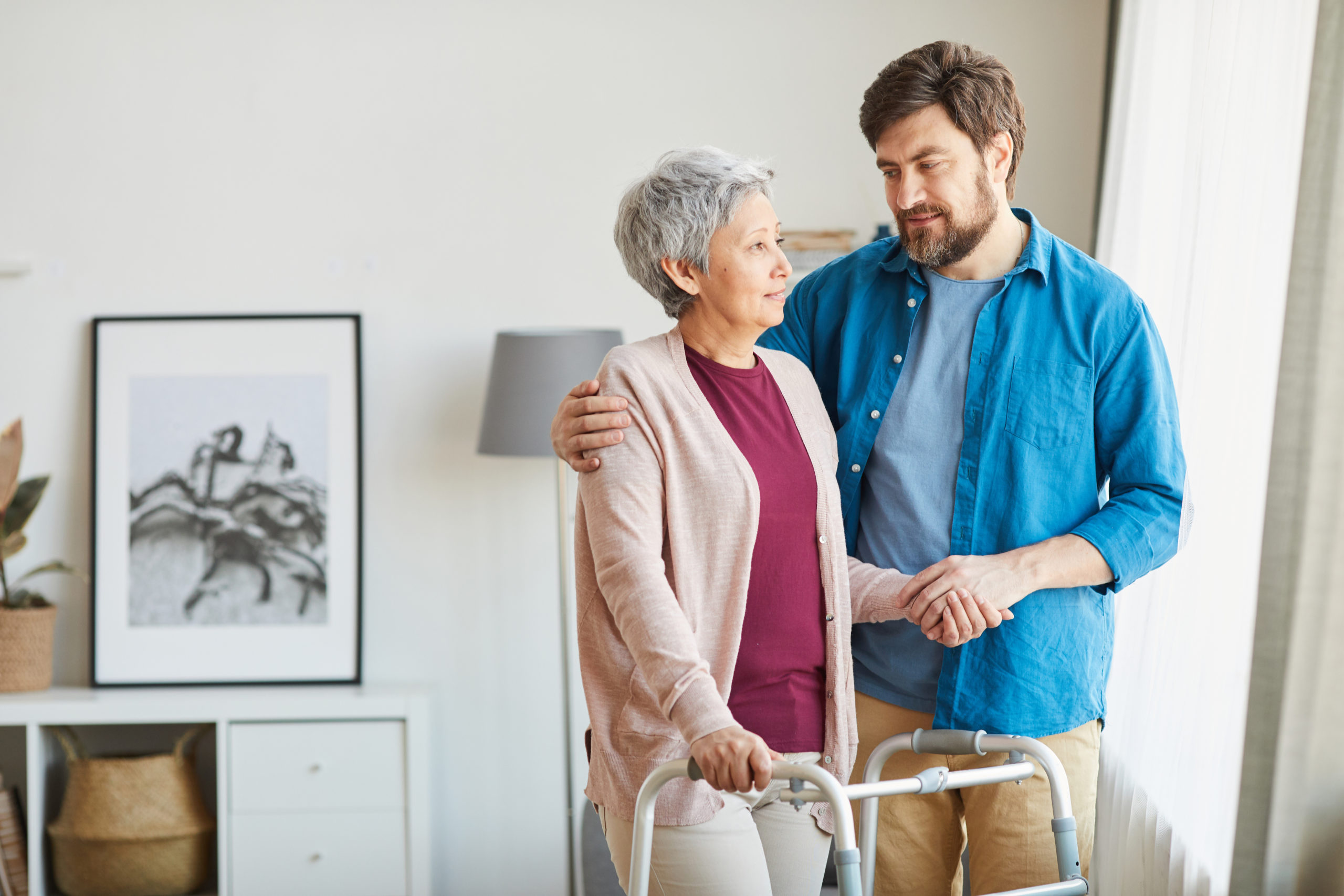 If you can only visit your loved one a few times per year, you'll want to maximize every visit to ensure you spend as much time together as possible. It's also important to use each visit as an opportunity to make sure your loved one has everything they need to stay safe and healthy.
Here are some tips to help you get the most out of each visit:
Take the opportunity to set up a medical alert system so you can monitor your loved one closely when you return home.
Check the refrigerator, cabinets and pantry to make sure your loved one appears to have enough nutritious food available to meet their needs.
Get out of the house as much as possible. Trips to restaurants, botanical gardens, concert halls and other destinations give you extra opportunities to make memories you'll both cherish long after your visit ends.
Walk around the house and look for potential hazards, including poor lighting, damaged flooring and cracked steps. If you notice any problems, take time to make repairs or hire a professional to do it for you.
Avoid bossing your loved one around or trying to control every aspect of the visit. You'll both enjoy the visit much more if you can relax and focus on strengthening your relationship.
Ask questions about your family's history or suggest that you do an activity that reminds you of your childhood. If your mother always made the most beautiful cakes in the neighborhood, for example, ask if you can bake and decorate a cake together. You can also look at photo albums or ask your loved one to teach you how to make a favorite family recipe.
Remember that you're a visitor in your loved one's home. Don't move things around or put things where you think they should go; follow your loved one's lead and respect their wishes.
If your loved one is housebound due to a chronic illness, plan to play board games, do a jigsaw puzzle or engage in other indoor activities.
Tips for Long-Distance Caregivers
If you're a first-time caregiver, it's important to set yourself up for success. Follow these tips to make caregiving less stressful and prevent arguments with fellow caregivers:
Have a family meeting as soon as possible to discuss your loved one's needs.
Ask the designated primary caregiver if they need any help. Even if you live far away, you can help with phone calls or paperwork, freeing up the primary caregiver for other activities.
Get familiar with the senior resources available in your loved one's city or county. Don't wait until they need help, or else you might waste valuable time trying to sort through all the options.
Schedule as many visits as possible to ensure the services you've coordinated are appropriate for your loved one's needs. If you arrive for a visit and notice that they're losing weight or developing pressure sores, you may need to hire additional help or replace current caregivers with new ones.
Ask trusted friends for advice on balancing your caregiving duties with work, child care and other obligations. If your friends have experience caring for aging parents, they can help you avoid common mistakes or warn you about potential problems you may not have considered on your own.
Understanding Your Loved One's Needs
To be effective in your role as a long-distance caregiver, you need to understand your loved one's medical needs. Before you start your official duties, ask the following questions to familiarize yourself with their health history:
Have they had any surgical procedures? If so, what were they and why were they performed? Were there any complications?
Do they take any prescription medications? If so, write down the name of each medication, the recommended dosage, the prescribing physician and the reason your loved one takes the medication. You should also know the route of administration for each medication, which refers to the location where the drug is administered. Many medications are taken by mouth, but your loved one may need medications that are injected or applied topically.
Has your loved one been diagnosed with any chronic medical conditions? If so, what are they? What are the symptoms? How is each condition being managed?
Does your loved one see any medical specialists, such as a gastroenterologist or cardiologist, on a regular basis?
Has your loved one ever been diagnosed with a mental health condition? Has the condition gotten better or worse with age?
Did your loved one's parents or siblings have any chronic health conditions? If so, is there a possibility your loved one could develop the same problems?
Has your loved one ever been told they have an increased risk of blood clots, dementia, heart attack, stroke or another serious medical condition? If so, what steps can you take to minimize the risk?
Is your loved one taking any over-the-counter medications, herbs or supplements that could interfere with their prescriptions or cause one of their health conditions to worsen?
Does your loved one have any physical limitations that could make it difficult for them to bathe, get dressed, prepare meals or perform other activities? This may include joint pain or stiffness, balance problems or a lack of coordination. Be sure to note whether your loved one uses a cane, walker or other assistive device to get around.
State Resources for Long-Distance Caregivers
Each state has several resources to help seniors and their caregivers access information and services related to aging in place. The agencies listed below can refer you to local organizations that provide meal deliveries, medical transportation and other services to help seniors stay active and maintain their independence. You can also contact one of these agencies if you need a referral for a medical alert system.